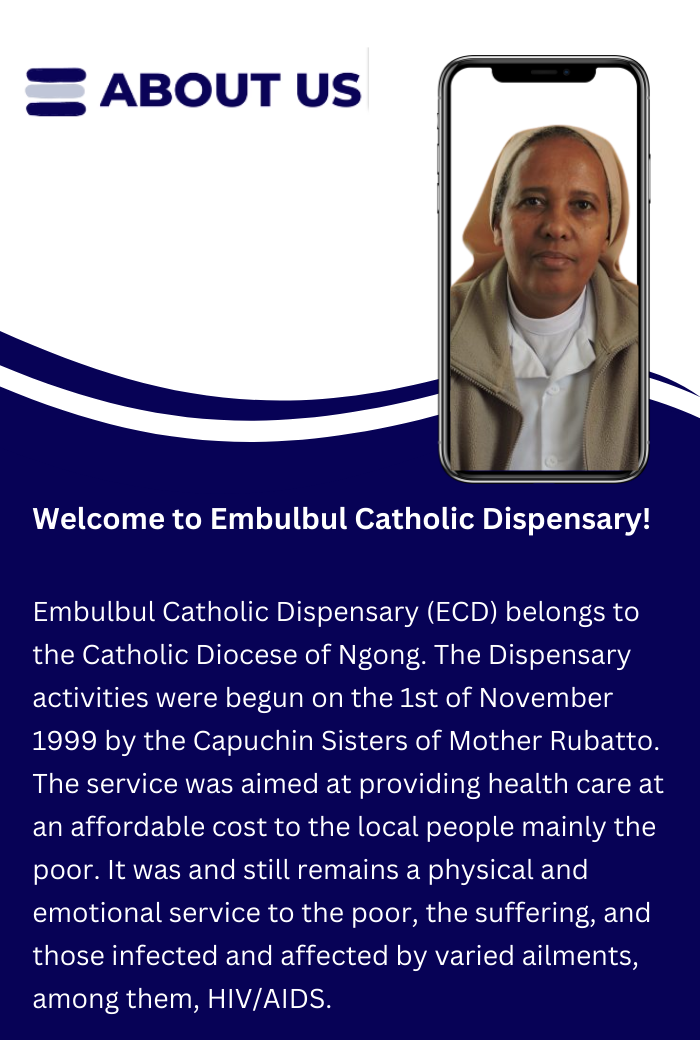 Welcome to Embulbul Catholic Dispensary!
Embulbul Catholic Dispensary (ECD) belongs to the Catholic Diocese of Ngong. The Dispensary activities were begun on the 1st of November 1999 by the Capuchin Sisters of Mother Rubatto.
The service was aimed at providing health care at an affordable cost to the local people mainly the poor. It was and still remains a physical and emotional service to the poor, the suffering, and those infected and affected by varied ailments, among them, HIV/AIDS.
It was and still is an invitation as extended by Jesus,
"Come to me all you who labor and are heavily laden, and I shall give you rest. (Mt 11:28) "
OUR HISTORY 
In the beginning, the Dispensary operated as a mobile clinic and included home visits. Those involved met every morning of the working week at the Embulbul Catholic Church premises, from where they packed drugs and other necessities into the back of a saloon car. They then moved to the interiors of Embulbul village, Kerarapon, NkaiMurunya, and Olepolos to minister to the needy.
On 8th April 2001, the present dispensary was opened by the then Vice President, Hon. G. Saitoti, M.P in the presence of Our Lordship Rev Colin Davies (the then Bishop of Ngong), Fr Patrick Divine, (the then superior of the SMA fathers) and Sr Emanuela, (the then regional superior of the Capuchin Sisters). Since then the dispensary has expanded the services offered to the people of Embulbul. This was a dream come true and we thank God for this provision. Our hope is that the Dispensary continues giving services to God's people regardless of their social status, race or religious affiliation.
Originally patients were sent to St. Odilias for laboratory services. But as the number of patients increased we felt the need for our own Laboratory, and in March 2001, laboratory services were started at our dispensary. In addition, MCH services were also started in June 2001. The present dental clinic was started on the 2 nd January 2002 by the Italian dentists with a donation of dental equipment from APA-ITALY supplemented by CHEKA project from Ireland while the VCT clinic was started in 2004 with support from the Government through NASCOP.
Integrity - We believe in strong moral principles, uprightness, honesty & non- tolerance to corruption in any form.
Professionalism - We seek to use only qualified practitioners, provide services to the best of our ability, continue learning & developing our skills & apply only recommended standards of professional practice.
Confidentiality - We recognize the right of every individual to privacy, and client information in our custody shall not be disclosed or divulged in any way without express consent from the client or recognized guardian.
Compassion - We shall empathize with our patients & teammates in times of need as our Lord Jesus Christ did. Thus, we shall endeavour to provide professional support with understanding, sensitivity & love within the limits of our religious and professional calling.
Teamwork - We believe that hard work, collective duty, synergy of efforts and encouraging each other is the only way to achieve the best results.
Diversity - We seek to understand & treat each person & situation as unique as to require different interventional approaches as we venture into innovative ways of dealing with diverse situations.
Innovation - A new approach in doing things is the sure way to success of any mission and we shall maintain the tradition of creativity in executing work